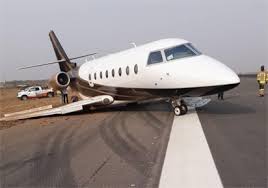 A Private jet operated by Nest Oil Limited has yesterday, skidded off the runway of the Nnamdi Azikiwe International Airport (NAIA) Abuja,
The incident led to the closure of the only  runway  by the Federal Airports Authority of Nigeria (FAAN) for 30 minutes, a situation that has affected the landing and takeoff of aircraft from the airport.
A statement signed by the General Manager, Corporate Affairs, Mrs. Henrietta Yakubu explained that the aircraft lost its landing gear in the process but that all hands were on deck and the situation was put under control and normalcy was restored within the hour.
Yakubu said that the runway had to be shut down to enable the authority take safety precautions measures.
The runway had since been reopened and normal flights operations commenced that same yesterday after 30 minutes of closure.
Yakubu appreciated the patience of the passengers and the airport users and promised that the authority is committed to promoting safety and comfort across airports in the country.
Nestoil Limited is the largest indigenous EPCC company in the Nigerian Oil and Gas sector and has been a significant contributor to the industry since inception in 1991.
The President and Chief Executive Officer of the company is Dr. Ernest  Azudialu
It provide a complete project package from initial planning through design, procurement, construction, installation and commissioning to start up, operations and maintenance, and if necessary to outage/shutdown.