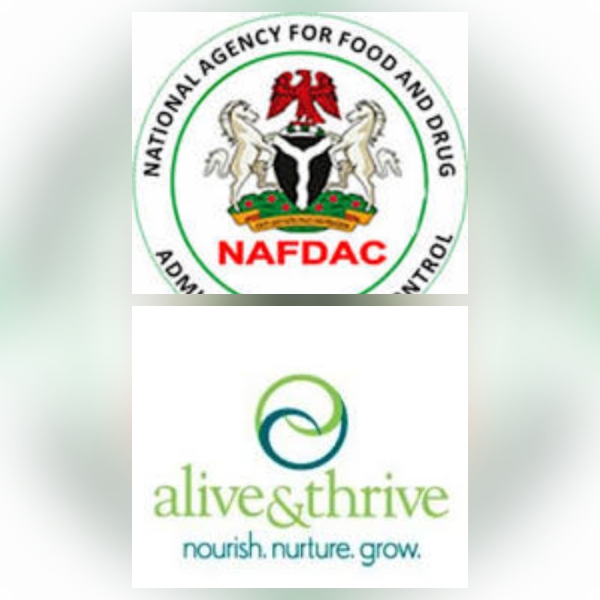 Despite clear messages on the importance and advantages of breastfeeding, the International code of marketing of breastmilk substitutes (BMS) and national regulations , promotion and sales of BMS such as infant formula and other products intended to partially or fully replace breast-milk continues unabated.
Deeply concerned about this , the National Agency for Food and Drug Administration and Control (NAFDAC) in collaboration with fhi360 – Alive and Thrive (A&T) recently organised a one day sensitisation workshop with the media on Compliance with the International Code of Marketing of BreastMilk Substitute .
Breastfeeding has been scientifically proven to be a singular most important strategy for combating infant malnutrition, morbidity and mortality. Hence , The World Health Assembly (WHA), 1981 adopted the International Code of Marketing of Breastmilk Substitutes (BMS), as a weapon to protect Breastfeeding from the negative impact that aggressive advertising, free samples, milk nurses and other promotional techniques by Infant Food Manufacturers (IFM) were having on breastfeeding rates and duration.
The Code recommends restrictions on the marketing of breast milk substitutes, such as infant formula, to ensure that mothers are not discouraged from breastfeeding and that substitutes are used safely if needed.
In her welcome remarks at the event , Director General NAFDAC, prof. Mojishola Adeyeye observed  that knowledge and lack of awareness of stakeholders especially the media on this issue has also contributed to the gravity of violations currently being practiced in Nigeria.
 On this note , She said , "This has necessitated the need for the Regulatory Agency in collaboration with relevant partners to aggressively address this unpleasant situation through interventions including effective sensitization of all stakeholders."
"This workshop aims at re-sensitizing key stakeholders on their responsibilities and commitment on the provisions of the Code and the national regulations. Specific focus will be on the review of the existing violations, provisions of the Code and national regulations, challenges faced in curbing violators, need for stakeholders to join forces with the Regulatory Agency in curbing the menace and the way forward"
Speaking at workshop  on "Compliance with the Code of Marketing of Breast Milk Substitute", the Deputy Director, Food System and Applied Nutrition, NAFDAC, Abdulsalam Ozigis, explained that the articles of the code provided clear information on the content of the code and the responsibilities of individuals, institutions/organizations, general public and manufacturers for its successful implementation and monitoring.
But he observed that it took Nigeria about nine years from 1981 after the adoption of the International Code of Marketing of Breastmilk Substitutes to come up with her national Code and to promulgate a back up legislation adding that both the national Code and the Legislation were deficient and also did not charge or designate any  group or agency to implement or enforce compliance.
However , he said that FMOH through BFHI, UNICEF and other Code protagonists in the country spear -headed moves that enabled NAFDAC to have another Decree enacted after nine years from Decree 41 of 1990. Decree No. 22 of 1999 then emphasised the position of NAFDAC as the Regulatory body charged with powers to enforce compliance with the Code.
In her presentation,  Patricia Chizoba Monwuba former ,  Deputy Director, NAFDAC observed that Knowledge about the Code and the importance of Breastfeeding is extremely important for health workers, because a woman's choice about how she will feed her child is strongly influenced by the information she receives.
She  emphasized that Code is primarily aimed at governments and Infant companies to implement/enforce and comply with respectively, but in reality it is the health workers who ultimately bear the responsibility for the success or failure of the Code.                       
According to the Head of Nutrition, Federal Ministry of Health, Dr. Chris Isokpunwu, who was represented by Mrs. Thompson Kobata Chimay BMS pose the risk of not having breast milk's protective qualities through the high risk of contamination that can lead to life-threatening infections in young infants.
She also noted that economic disadvantages of curative interventions when treating diseases associated with infant formula feeding is cost-intensive when compared with cost-benefit ratio at improved breastfeeding practices.
She advised that workplaces should also adopt the national policy on maternity/paternity entitlement to ensure optimal Maternal Infant and Young Child Nutrition and Family planning (MIYCN).