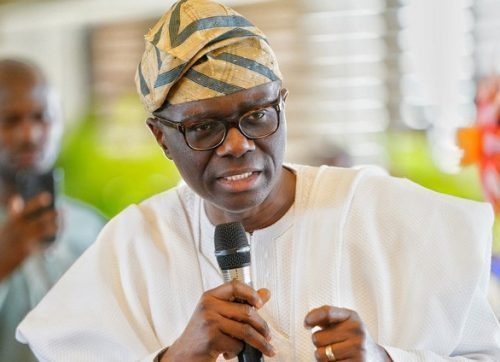 Lagos State Government has sealed sites where unapproved building constructions were going on in some parts of the State, particularly Lekki, Abule-Ado and Festac extension.
Speaking during the monitoring exercise in Lekki, Abule-Ado and Festac  to assess the level of compliance to building regulations in these areas,  the Commissioner for Physical Planning and Urban Development, Dr. Idris Salako said that the Lagos State Government was determined to control physical development across the State, particularly in the FESTAC extension, Abule-Ado and other parts of the State where haphazard developments were going on.
Shocked at the level of development activities going on without planning permit and adherence to the State planning laws in Festac extension and Abule-Ado, where the monitoring team discovered that many houses had tilted at various degrees while some were sinking into the ground, the Commissioner directed the immediate sealing of sites without planning permits by operatives of the Lagos State Building Control Agency(LASBCA) and the Technical Services Department of the Ministry.
He maintained that obtaining building permit before commencing construction was not negotiable as the administration of Mr. Babajide Olusola Sanwo-Olu was determined to bequeath a Lagos Megacity that is sustainable, orderly, livable and friendly to business and tourism.
He explained that owners of the sealed properties who were willing to conform to planning laws and regulations would be encouraged to  regularise their properties, while Government would continue to apply the law on recalcitrant ones.
" For the avoidance of doubt, no building is allowed to be developed in Lagos State without first obtaining planning permit and stage certification. Upon construction, such buildings must conform with the approval granted by the Lagos State Physical Planning Permit Authority(LASPPPA)" he said.
He emphasised that the era of unplanned developments in which anyone could erect buildings without approved building plan and according to their fancy was over.
He urged all property owners, developers and other stakeholders in the built environment to ensure that they obtain planning permit and produce it when demanded by officials of the Ministry of Physical Planning and Urban Development and its Agencies, adding that non-availability of the permit would lead to the sealing of the affected property while its promoters would be made to face the law.
The Commissioner also enjoined property owners and all concerned to desist from breaking government seal on identified illegal building construction, working in sites where government seals had been broken or using of under-aged children as site workers.
He urged Lagosians to cooperate with the State Government in its aim of achieving safe, livable and secure physical environment by not only obtaining planning permits but ensuring conformity with their approved plans.
The monitoring exercise in Festac extension and Abule-Ado was carried out by the Physical Planning and Urban Development Commissioner in the company of Mrs. Aisha Onotu, a representative of the Federal Housing Authority (FHA) and other staff of the Federal agency.