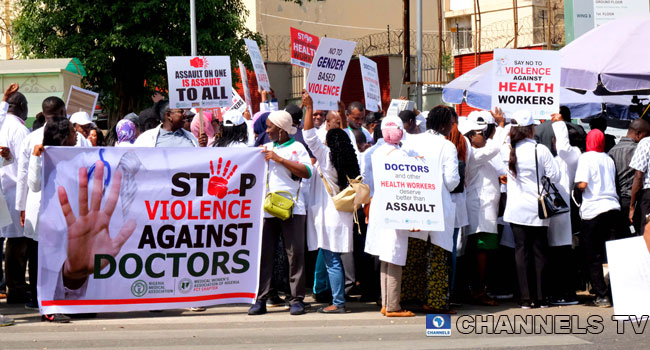 The Association of Resident Doctors (ARD) and other health workers has embarked on a peaceful protest walk in Abuja to express their grievances over rising incidence of assaults and violence on its members.
The News Agency of Nigeria (NAN) reports that the protesters took a walk to the office of the FCT Minister over incessant attacks, assaults and violence meted on medical doctors and other health workers by relatives of patients.
The protesters carried placards with several inscriptions, including: "We Care for You Why Beat Us'', "Better Securities in our Hospitals'', "Say No to Violence Against Health Workers", "Doctors and Health Workers deserve Better''.
The doctors had on Wednesday ears  embarked on a three-day warning strike across FCT general hospitals over recent assault and stripping naked of a female doctor by relatives of a deceased patient in Maitama District Hospital, FCT.
Addressing the protesters, the FCT Minister of State, Ramatu Aliyu, appealed to the doctors to call off the strike as the authority was already addressing the issue, which will bring an end to all forms of assaults on all persons.
"I appeal that you call off the strike and just give us the benefit of the doubt and see what will be done in the shortest time. I will come personally and talk to all hospitals in the FCT to know whatever challenges you are facing there.
"We appreciate your patience and understanding that you didn't take laws into your hands and we assure you that the issue is receiving attention your demand is taken seriously and given utmost attention.