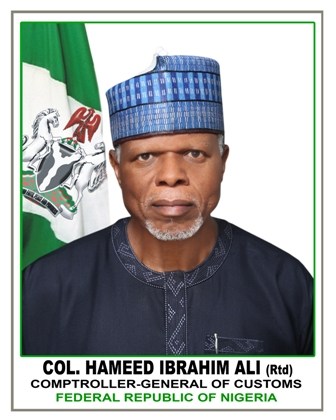 The Comptroller-General of Customs, Col. Hameed Ali (Rtd) has urged Nigerians to patronize locally-made goods in order to boost Nigerian economy. The Customs boss stated this in Lagos during the Annual Agricultural Summit organized by Nigeria Association of Agricultural Journalists (NAAJ).
The Annual Agricultural Summit was themed: Bridging the Investment Gap in Agricultural through Information. Ali, who was represented by Deputy Comptroller of Customs in charge of Enforcement at Tin Can, Dera Nnadi, said that there is no need for the country to import what it can produce.
"Since 2015, this government has been making deliberate efforts to encourage local production of rice and other items. The border closure is just an addition to encourage our farmers. It is not Nigerian Customs that is saying it; it is the people that are benefitting from the good policies of government," he said.
On the same vein, Acting Director General of Federal Institute of Industrial Research Oshodi (FIIRO), Dr Chima Igwe called for transformation of Agricultural sector in Nigeria.
Igwe said the transformation of the sector is needed to serve as agent of economic recovery and growth.
"In the past few years, Nigeria and Nigerians experienced a sudden and significant drop in economic activities which led to the loss of the purchasing power of our currency, the Naira. Although Nigeria has been able to exit the recession, the strangling effects might still be seen lingering with the possibilities of a relapse if the nation does not diversify.
"Upgrading and improving the agro-allied production and production processes, mining and other relevant manufacturing sectors, upgrading and improving the existing traditional and local technologies, making new discoveries and innovations through research and products and services development in all sectors of the economy," Dr Chima said.
The Chairman of Elephant Group, Mr Tunji Owoeye added that the border closure has been opening doors of opportunities to Nigerian farmers.
But the Commissioner of Agriculture in Lagos, Prince Gbolahan Lawal appealed to Nigerians to key into the Agricultural revolution of federal government so that more jobs can be created. Meanwhile, Agricultural journalists later recognized the outstanding personalities that have contributed to Agricultural development in the country.