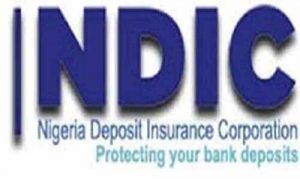 The Nigeria Deposit Insurance Corporation (NDIC) has recovered a cumulative amount of over ₦29.112 billion from debtors of deposit money banks in-liquidation, since its establishment 30 years ago.
₦129.10 million was realized from debtors of failed micro finance banks, while that of primary mortgage banks stood at N300 million.
Managing Director/Chief Executive of the NDIC Umaru Ibrahim, stated this in a press briefing to commemorate the 30th anniversary of the corporation in Abuja.
"On realisation of assets, currently ₦21.502 billion was collected from the disposal of physical assets of closed DMBs, while N404.74 million and ₦78.17 million were realised in respect of MFBs and PMBs, respectively", he said.
"Debt collection and assets sales culminated in the payment of over ₦116.258 billion as liquidation dividends to depositors, creditors and shareholders of closed banks. It is important to stress that through sustained and diligent liquidation activities, NDIC has realized assets to pay in full, deposits of the customers of 17 of the banks in liquidation. In effect, all the depositors of the 17 defunct banks who came forward to file their claims have been paid all their monies (both insured and uninsured) erstwhile trapped in those banks", he added.
Talking of its response to contemporary developments in the banking system, he said the system was upwardly dynamic, sophisticated and complex. The dynamism and complexity in the last three decades resulted in the emergence of different operational models, products and services.
"Inevitably, such developments challenged the corporation's capacity to protect depositors in its role as a key member of the Nigerian financial safety net. I am happy to note that NDIC was not found wanting in its response to such developments", he stressed.
These he listed to include increase in Maximum Deposit Insurance Coverage (MDIC) at various times to ensure coverage of over 95 percent of depositors; creation of Special Insured Institutions Deposit Insurance Fund (SIIF) and extension of deposit insurance cover to depositors in 2006.
"Others are extension of cover to depositors of non-interest banks through the framework for non-interest deposit insurance and creation of non-interest deposit insurance fund. Extension of cover to subscribers of Mobile Money Operators (MMOs) through the Pass-Through Deposit Insurance Framework; adoption of Risk-Based Supervision in Banking Examination; in Collaboration with CBN, the Corporation jointly developed the Framework on Consolidated Supervision for DMBs, assessment of banks financial condition and performance through Financial Analysis System (FinA), introduction and Adoption of Differential Premium Assessment Scheme (DPAS) to DMBs and PMBs to strengthen Enterprise Risk Management Framework of DMBs, PMBs and MFBs", said the managing director.
Talking about capacity building for the media, he said, "NDIC regards the members of the media as its strategic partners. Since 2002 the corporation has invested in the annual workshop for business editors and members of the Finance Correspondents Association of Nigeria.